If you are a fan of gunlistings.org please look below for ways to help spread the word. The more people that know about gunlistings, the easier it will be to buy and sell guns in your area!
Flyers
You can print out the following flyer and post it up at your gun club, shooting range, local gun show, or anywhere else that will let you. Thanks for your support, we can't do it without you!
Click here to download PDF flyer (better quality)
Click here to print the flyer
Link To Us (perfect for forum signatures)

Copy the text in the box below and paste it to your forum signature, your blog, your website, etc
Website Banners
Want to promote gunlistings.org on your website? Just copy the code below the banner you like, and paste it on your site.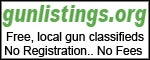 Active Gun Classifieds
1,388

gunlistings.org-
Supporting the 2nd
Amendment since 2008